BTS 'Dynamite' is a new upcoming single. Armys around the world are super-excited with the news of BTS' comeback. Bangatan Soneyondan a.k.a BTS is a South-Korean boy band who have taken the world by storm. Consisting of seven members, BTS has been in the music industry for seven years now, setting new records every day. The global superstar band is ready to make a comeback after the hit of their last album, MOTS: 7. The boys of BTS are all set for their new album (unnamed) and are ready to release a new single from their next album.
Obviously, their fans, Armys can't keep it low after the announcement of their new single track from their new album, Dynamite. I mean how can you not notice more than 100 million fans waiting eagerly all over the internet. Indeed, having such a huge fan base is crazy, especially, when most of their songs are in Korean. But, this time, BTS has decided to release the track in English, making their comeback more exciting. Yikes!
Go ahead and read  to know everything about their new track, promotion timeline to release date:
When Is 'Dynamite' Coming Out? Schedule And Promotions
BTS 'Dynamite' will be released on 21st August 2020, nationwide. Also, it will be available to stream on almost every music streaming site. Their agency released the news about the song on 2nd August 2020, and since then, their fans have gone insane.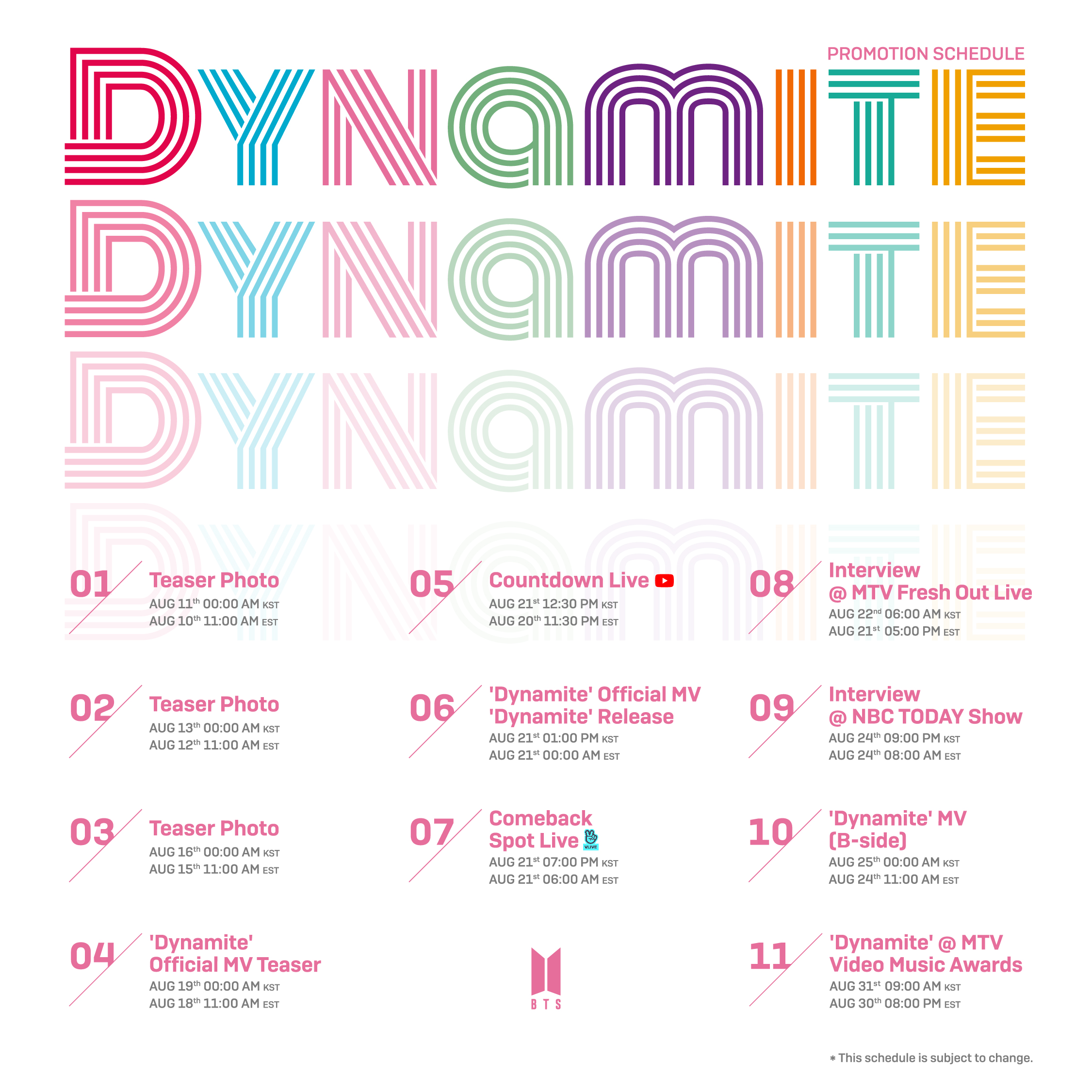 The schedule for the new comeback, Dynamite will have three photos teaser which will be released on 11, 13, and 16th August 2020, respectively.  Following this, the official MV teaser for Dynamite will be launched as well, quickening the countdown live. And, finally, the MV will come out on 21st August making the fans berserk all around the globe. The band will also release a B-side version of 'Dynamite'. BTS will also be seen performing their new single from their new unnamed album on 'Comeback Spot Live' after the release.
Performance At The VMA'S?
Finally, we can see BTS performing at this year's VMA. Yes, the news has surfaced and is true. From their interviews to their performance, a complete schedule has been out and we are freaking out because of the amount of BTS content we are gonna get besides the new song.
Apart from the performance at VMA's this year, BTS will also be attending some interviews. Right after, the release of their song, BTS is scheduled for an interview on 21st at 5:00 PM EST for MTV Fresh Out. They will also be giving an interview on NBC Today Show before their big live performance at VMA's.
Honestly, being an army, I can't keep up with the excitement and I know you guys can't as well. So, we will make sure to keep you updated regarding all the new updates. Thus, keep reading.